About RTF Consulting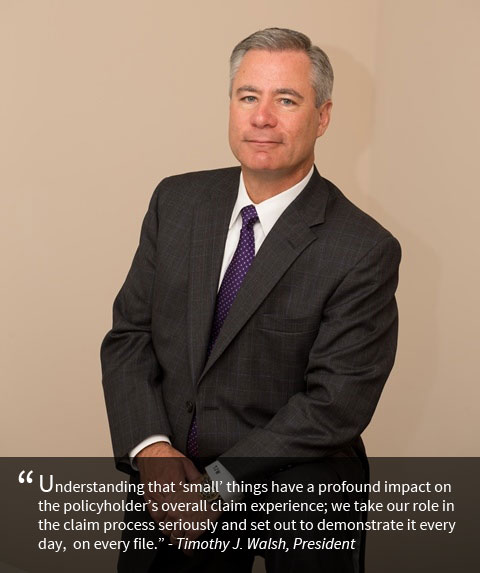 After experiencing an insurance claim himself as a policyholder and coming away with a strong belief the process could be improved for all parties, entrepreneur and RTF Consulting, Inc. co-founder Tim Walsh made his next venture into the insurance business in 1993. Walsh spent his first year in business learning the ropes and working with carriers on a variety of commercial and homeowner property claims. He quickly identified that commercial property claims involving tools and equipment presented challenges, expense and inefficiency for both claim handlers & policyholders. A solution required product specific knowledge, volume purchasing and a streamlined process. Soon after, RTF was born.
Walsh recognized the need for specialization and the potential to create a process which not only helped carriers reduce settlement expense, but also ensured both the carrier and policyholder obtained value in the claim process. Now, RTF deals primarily with commercial property claims involving professional-grade tools & equipment; ranging from any automotive shop, service or repair application, to construction, contractor and building trades. RTF helped establish and now coordinates an insurance industry buying coalition which provides distributor level pricing based upon the collective purchase volume of all carriers. As a result, carriers who work with RTF are no longer simply improving accuracy, confirming current retail price or working with a vendor selling product. Rather, RTF Consulting provides unmatched settlement expense reduction, increased claim staff effciency, unbiased tool & equipment expertise along with a value-added policyholder option which offers prompt, factory direct replacement of tools / equipment involved to minimize down time.
Over 20 years ago what began with a vision, a few insurance carriers who understood the value in combining purchase volume and a couple manufacturers willing to take a chance on an unconventional idea has grown to include dozens of carriers and over 1,800 brands. RTF prides themselves on extending superior customer service, efficient turnaround, unsurpassed product knowledge and industry expertise. To find out more about RTF Consulting, Inc. contact us at 651-633-3611 and speak with a member of our management team....or better yet, to experience the true benefits for yourself, simply submit a claim for evaluation.